Building codes and specific building requirements can vary depending on the area you're in. The International Code Council lays out various codes that can act as a template for cities and municipalities or can be adopted as the prevailing code. The Texas residential building code handrail requirements rely on the International Residential Code as it existed on May 1, 2001. 
Each of Texas's 1,214 municipalities must follow the requirements laid out in the IRC. This law also permits a municipality to adopt local amendments to the code that were made after May 1, 2001.
Section 214.211 of the Local Government Code defines "residential" as "having the character of a detached one-family or two-family dwelling or a multiple single-family dwelling that is not more than three stories high with separate means of egress, including the accessory structures of the dwelling." A residential building cannot be used for transient guests or for medical, rehabilitative, or assisted living services.
Adopting this code provides a means for the local government to protect public health, safety, and welfare. This code applies to all construction, alteration, remodeling, enlargement or repair of residential structures.
Texas Handrail Requirements
Placement
Where required, handrails must be installed between 34" and 38" measured vertically from the nosing of the treads or the walking surface of the ramp. They are required on at least one side of the stairway or ramp. 
Locations
Ramps
All ramps exceeding an 8.33% slope (one unit vertical in 12 units horizontal) are required to have a handrail on at least one side. Handrails should be installed between 34" and 38" from the walking surface of the ramp.
Stairs
Residential building code handrail requirements for stairs provide for handrails on at least one side of a flight of stairs with two or more risers. These handrails cannot project more than 4.5" on either side of the stairway. 
Where a handrail is installed on one side of a stairway, the maximum clear width of the stairway at and below the handrail height, including treads and landings can't be less than 31.5" and 27" where a handrail is provided on both sides.
Flat Surfaces
Handrails are not required on flat surfaces. However, depending on the location of the flat surface and the stability of those using it, a handrail could be a helpful addition. For instance, areas that experience rain and could be slippery could use a handrail as a third point of contact. If you're building or renovating the home of a senior, someone aging in place, or someone with other mobility issues, a handrail is a good addition.
Where a handrail is installed, it should meet all of the requirements laid out below.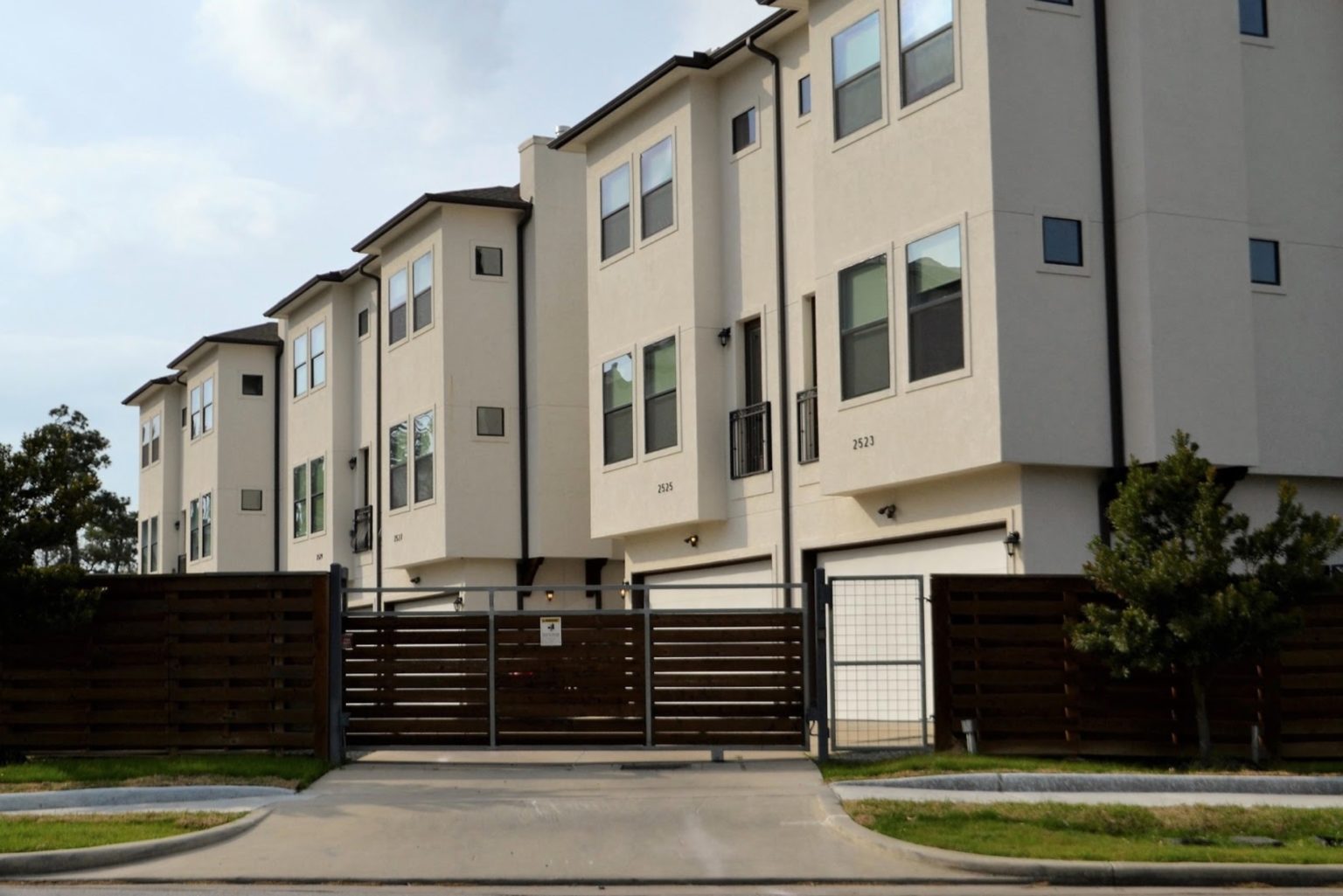 Continuous Capabilities
Handrail(s) must be continuous for the full length of the stairs with two or more risers. They must begin from a point directly above the top riser of a flight and run continuously to a point directly above the lowest riser of the flight.
The exception to this is that a handrail can be interrupted by a newel post at a turn, and the use of a volute, turnout, or starting easing is allowed over lowest tread. 
Grip
Handrails should allow for the strongest and most comfortable grip to maximize their safety. To achieve this, a circular cross section of 1 ¼" to 2 ⅝", is required. Other shapes are permitted but only if they provide an equivalent grasping surface. Edges must have a minimum radius of ⅛".
Ends and Extensions
Ends shall return to the wall or terminate in a newel post or safety terminals. Residential handrails do not require extensions.
Spacing
Handrails must have a space of at least 1.5" between the wall and the handrail to allow for easy gripping of the handrail surface.
Load
In order to provide as much safety as possible, building code handrail requirements state that handrails must be able to withstand a 200 lb. minimum uniformly distributed live load.
The Best Handrails for Texas
If you're building or renovating in Texas, Promenaid has the best handrails for your project. Our handrails are elegant, versatile, and durable and exceed the Texas residential building code handrail requirements.
One of the most challenging aspects of the residential building code is creating a continuous handrail, especially on stairways with multiple landings, corners, or elevation changes. Our patented Sprocketlock™ connection system takes on this challenge and allows you to create a continuous handrail that snakes around corners and up staircases. Our system also allows for freestanding bends, so you can lock handrail lengths together without the need for bracket support, which gives you unparalleled installation flexibility.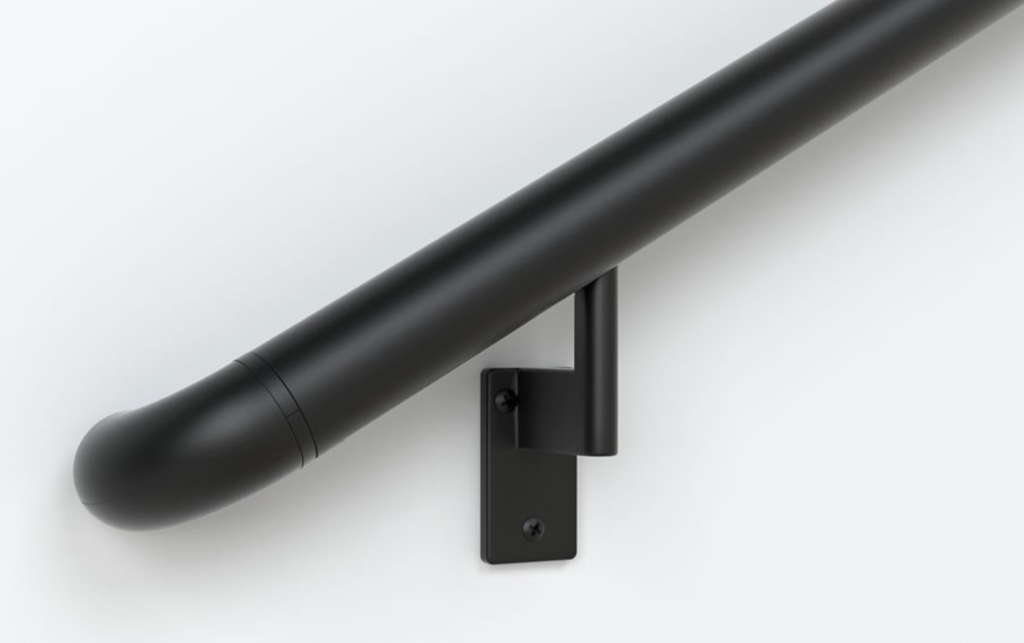 Our Channelgrip brackets make installation quick and easy. Other brackets need to be screwed into the handrail, but our brackets simply clip into place in the handrail's extruded channel wherever you will attach the handrail to a stud. Not only that, brackets can be added, removed or re-positioned at anytime – even after installation is complete. Once the brackets are locked in place, simply screw them to a stud, and you have a sturdy handrail that is able to withstand 500 lbs. of force in any direction.
Promenaid handrails are also incredibly durable, making them perfect for indoor or outdoor applications. A satin anodized finish means that they can withstand sunlight, wind, and rain for exterior applications as well as high use for both interior and exterior applications.
Contact Promenaid today to choose a handrail that complies with the Texas residential building code and will look great at home.