Found on top lists like the Building Design + Construction Annual Giants 400 report and Architect Magazine | Architect 50, these top 18 multi-family building architect firms have established themselves as high performers in the architecture space. 
Experienced, innovative, and creative, these firms have stood the test of time and continue to create beautiful spaces.
The Top 18 Multi-Family Building Architect Firms
Based in Dallas, Texas, Humphrey's & Partners Architects have regional offices all around the world. For 27 years, they have consistently strived for innovation and ingenuity in their designs. Specializing in multifamily projects, they have extensive experience in high-rise, mid-rise, student, senior, tax credit, affordable, moderate, and luxury communities.
Perkins Eastman, spread across 19 global studios, believes in collaboration and leaving a positive impact on the world through design. Creating dynamic spaces and practical holistic environments, they are mindful of environmental, technological, economic, and social shifts.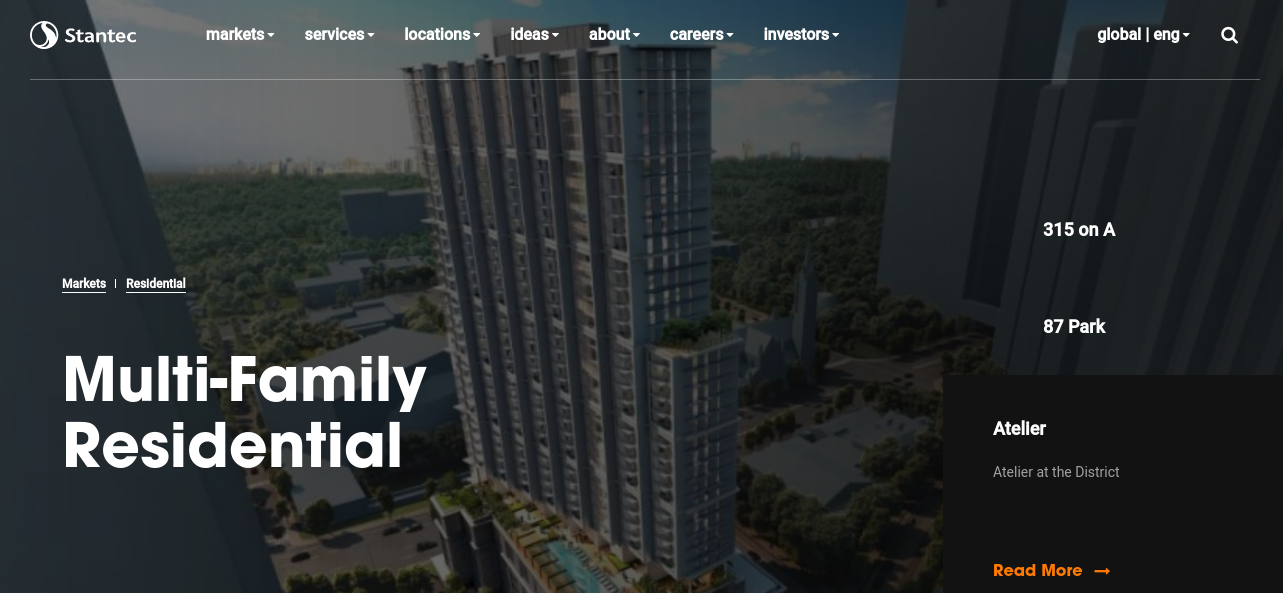 Designing with community in mind, Stantec cares about the communities they serve. They bring together diverse perspectives that allow them to assess what's needed, connect their expertise, appreciate nuances, and envision innovative solutions.
Archimania has put together a team that is linked by a passion for architecture and a commitment to improving the built environment. Their impressive portfolio of multi-family homes demonstrates their commitment for progressive and innovative building solutions.
Founded in 1931, Solomon Cordwell Buenz (SCB) has designed buildings that are a result of their industry-leading standards and progressive creative vision. Always striving for a higher standard, SCB envisions multi-family residential buildings that are designed for a changing world.
In the 29 years since KTGY Architecture + Planning's founding, they have built over 200,000 multi-family units. Combining big picture opportunities, modern sustainable practices, and impeccable design standards makes KTGY a leader in their field.
Handel Architects is committed to make cities better places to live, designing multi-family buildings that serve as catalysts for positive urban and social change. Their multi-family projects span all income ranges, so they are accessible to a wide range of clients.
Creating functional yet inspiring spaces guided by the belief that all successful projects start by listening to the needs and desires of their clients is at the core of Hord Coplan Macht.
With over 70 years of experience, CallisonRTKL is a global architecture, planning, and design practice that has evolved into a cultural agency. Advancing positive outcomes in the community, this firm uses a human-centric design approach to address the built environment.
Niles Bolton Associates listen, analyze, and engage each client throughout the design process to ensure a truly collaborative experience that builds trusting relationships and beautiful buildings.
Whether you're designing a traditional building or one that pushes the boundaries of modernism, SLCE Architects focuses on the art of design, the craft of building, and negotiating challenges that can be unique to each specific project.
This collective of architects, designers, and creative thinkers are dedicated to enhancing the human experience through their multi-disciplinary practice. They've been awarded the State of California and National American institute of Architecture Firm Award for more than two decades of exemplary work that blends architecture, art, and craft.
HKS has a focus on design research, and brings together architects, interior designers, researchers, urban designers, nurses, anthropologists, graphic designers, and more to create smarter solutions as they strive to build a more resilient future.
BKV Group creates intelligent residential design for building healthy, connected, and fulfilling lives. Their multi-family projects are wide ranging, encompassing mixed-income developments, tight, urban in-fill sites with a focus on the pedestrian experience, and mixed-use buildings that make a statement with dynamic patterns, colors, and materials.
A leader in sustainability and green building practices, WDG Architecture has produced over 500 major buildings, including multi-family residential and mixed-use projects. More than 80 years of experience means that they've mastered balancing the art and science of architecture.
GGLO brings together subtle nuances of place with innovative expressions of form and art. Synthesizing culture, context, science, and function to elevate the whole, they put people at the center of every design through exploring narratives of the human experience.
A view to the future defines HGA's work and designs. They know that "functional needs vary, but the human soul always seeks beauty." With this in mind, they shape built environments in a way that will serve the needs and aspirations of people today, tomorrow, and into the future.
Brooklyn-based nARCHITECTS boasts buildings such as Carmel Place, with designated affordable housing, and Artisan Place, a mixed-use building with studio and two and three bedroom apartments along with shops and restaurants in the building's base.
Promenaid Makes The Best Handrails for Multi-Family Buildings
Our handrails exceed code compliance standards and they can be installed anywhere you need them. With our Sprocketlock™ technology, you can create a continuous handrail that blends with even the most unique design, and our Channelgrip brackets make installation quick and easy, keeping your project on track. 
Promenaid's ADA compliant handrails are uniquely suited for use in multi-family buildings. Whether in common spaces or residential units, our handrails can withstand years of wear and tear. A satin-anodized finish protects the aluminum handrail without worry of nicks, scrates, chips, or dents.
Reach out to us today to learn about how our handrails will elevate your design while supporting safety and code compliance.