Interior Handrail Design Ideas: Get a Grip on Placement Options
Handrails are essential to creating stairways, hallways, and even bathrooms that put safety first. And the great news is that there are beautiful and versatile interior handrail systems that mean you won't have to compromise design and style to create a safe environment.
Update and add safety to older or decorative designs
Older buildings have a style and charm all their own, but many old designs don't create the safest conditions. Ornate and out-of-date stair railings many times don't meet current building standards or ADA regulations. Pairing the original stair railings with modern interior metal handrails can be a quick and simple upgrade that benefits those travelling up and down the stairs.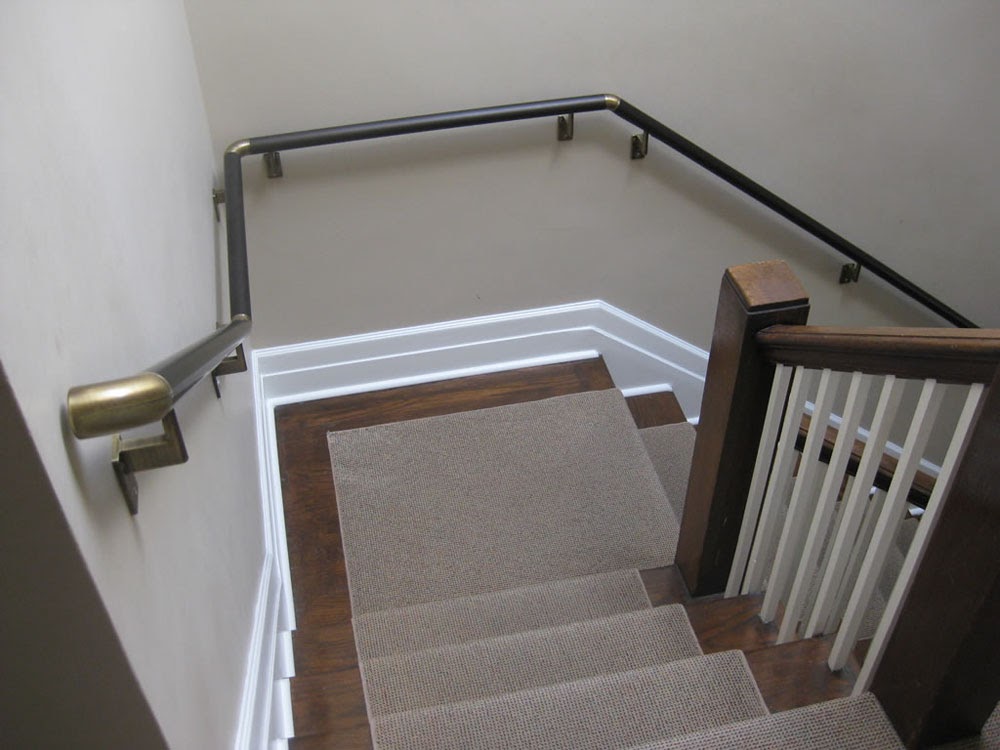 Using an interior metal handrail with a more traditional wooden stair rail creates an additional element of safety without compromising the traditional design. The addition of a more contemporary metal handrail in a Satin Black finish creates options for climbing or descending the stairs depending on support needs.
Turn corners with ease
Integrating a handrail into an existing design sometimes calls for creating a turn around a wall. A Promenaid handrail can smoothly turn a corner with ease by using a patented articulating bend that can to smoothly accommodate any corner or change in slope.
Creating depth with a two tone handrail adds a stylish element to the handrail design. Brass and Bronze is a classic combination that can complement modern or contemporary decor, so pairing an Architectural Bronze handrail with Antique Brass bends works beautifully.
Use colors to add style
Choosing a Satin Black interior handrail that matches a bold wall color choice serves to enhance the design of the stairway. Adding stairway lights further increases the level of safety while also adding an elegant ambiance.
A Promenaid TruWoodTM handrail is paired with Silver bends and wall returns to create a continuous look that also blends finishes. The genuine Oak bonded to the durable aluminum core creates a pleasing contrast to the shine of the hardware and bends.
Add stylish safety to bathrooms
Bathrooms are notoriously slippery environments that can be hazardous to those with balance issues and even those without issues. Integrating a handrail into a bathroom design can create safety measures without compromising the bathroom design. A stunning Satin Black creates a contemporary feel without looking commercial or clinical.
Adding a handrail to the interior of a shower provides needed support while navigating a shower. Choosing a black finish complements the black bathroom fixtures, creating continuity while adding safety. Perfect for wet conditions, Promenaid handrails are the perfect combination of style and function.
Create a continuous handrail on a landing
When creating a continuous handrail from the bottom to the top of a stairway, it may be necessary to change direction and slope to travel around a landing area. This handrail uses the Promenaid's patented articulating bends create a seamless and continuous railing that provides uninterrupted support.
This handrail climbs the stairs, turning seamlessly on the landing, creating a stunning way to support those climbing or descending the stairs.
Utilize both sides of the stairway
On a steep, narrow stairway, handrail support is essential to safely navigating up and down the stairs. Including a handrail on both sides of the stairway ensures anyone with a condition that impairs mobility or balance or weakens one side will always be able to have a firm grip on one or both handrails whether climbing or descending the stairs.
These contemporary steps are much easier to climb thanks to the handrails incorporated on each side. The Champagne Silver finish not only creates a durable handrail that won't chip or flake, but it integrates into the minimal contemporary style of the home.
"A true handrail is designed with fall prevention in mind, complies with the ADA guidelines, and makes stairways, walkways, hallways, and bathrooms safer, not only for those with mobility issues but for people of all ages and abilities." ~ Chuck Waltman, Houston Home Remodeling Pros
No matter the need, Promenaid's interior handrail systems can be customized to provide safety and style that integrates beautifully into modern, traditional, and contemporary decor.