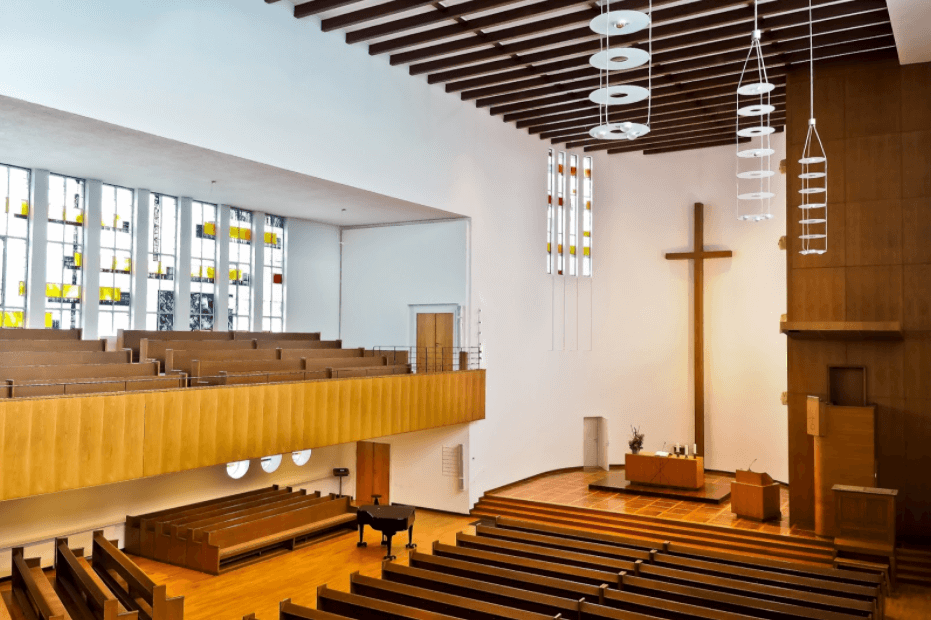 The Best Option for Church Handrails
A church's congregation is usually made up of a variety of people, and you work hard to serve the needs of everyone. When it comes to safety inside, and even outside of the church, there is a simple way to provide safe assistance for each member, from the youngest to the oldest. 
Installing handrails in various high-need areas in and around the church can ensure that the congregation travels to worship safely with the support they need, regardless of age or ability.
Walking Assistance and Churches
Installing handrails in certain areas, both inside and outside, of the church building provides walking assistance to and from the building. Ensuring that congregation members can attend services safely is just one more way to serve them.
Church Handrail Location Needs
Church handrails can be installed in a variety of areas inside and outside of the church: 
Ramps
Indoors
Ramps leading to a stage or into the sanctuary are necessary to help those with mobility issues navigate safely. Handrails installed on indoor ramps provide safety while complying with ADA requirements and building codes.
Outdoors
The outside of a church uses ramps in addition to stairs to make the church accessible to everyone regardless of their age or ability level. Outdoor ramps present added challenges in wet or slippery conditions. A reliable handrail can help to mitigate these conditions and provide added safety.
Stairs
Indoors
Depending on the layout of the church, stairs can lead to the altar, choir area, raised seating, basement, etc. Installing a handrail on interior stairways is essential for the safety of the congregation.
Outdoors
Weather conditions greatly impact the ability of some to make it to church. Incorporating handrails in outdoor areas help more people be able to attend the church service. Wet or icy conditions can be traversed with the help of an outdoor handrail.
Stages
Handrails can be installed in a stage area to help performers navigate around the stage area. Providing safety for those who are bringing performances and plays to the congregation is paramount.
Balconies
Balconies are designed with a guard that prevents people from falling over the edge. In some cases, this guard, whether a wall or railing, may be too low to provide adequate safety. Installing a handrail as a secondary safeguard ensures the safety of those on the balcony whether they are watching the service or singing in the choir.
Wall-mounted and Free-standing
Depending on the location, a church handrail can be mounted to an existing wall to provide support. In other cases, the handrail may need to be free-standing to create necessary supports.
Features of the Best Handrails
Promenaid delivers everything you need in a church handrail. If you want an all-in-one solution that's easy to install, then look no further than our beautiful DIY railing and bracketing products.
Sturdy
A church handrail will see a lot of use over its lifetime. Church services every Sunday, Bible studies, Sunday school, and various church programs mean that there are lots of people in and out of the church throughout the week. As a result, the handrail that you select needs to be sturdy and able to stand up to a lot of wear.
Promenaid aluminum handrails feature the Endura™ Anodized Finish which is scratch and weather-resistant. This finish creates a smooth satin lustre that will never flake or chip ensuring a beautiful finish for years to come. 
Promenaid TrueWood™ handrails are manufactured by bonding a thin layer of genuine wood around the patented Promenaid aluminum core. Since the wood is reinforced by the aluminum, it is essentially dent and scratch-resistant. It creates a wood handrail that will never warp, unlike solid wooden handrails.  
Our support brackets and hardware are manufactured from die-cast zinc and will withstand up to 500 lbs. of force in any direction, ensuring added safety for everyone in the congregation. 
ADA Compliant
The Americans with Disabilities Act Standards for Accessibility has guidelines that ensure handrails are safe regardless of a person's mobility. We designed our handrails to exceed ADA requirements, making them safe for everyone.
Visually Striking
Available in five beautiful aluminum finishes and two TrueWood™ options, we offer visually striking handrails that integrate seamlessly into any design. Many churches choose a finish that integrates into their existing design, but choosing a contrasting color can create a beautiful design statement, as well as being beneficial for those older congregation members as they look for support.  
Versatile
Each church is unique and many have been standing for a long time, and integrating handrails into a church's architecture can present challenges. From updating an older building to designing a new one, handrails need to be versatile in order to meet design needs while also providing safety.
Depending on the situation, a church handrail may need to be wall-mounted or free-standing. Promenaid provides options for both. Wall-mounted handrails use an adjacent wall for support and can be mounted directly to the studs. Our patented articulating elbows makes it easy to change slope or turn any corner.
Free-standing handrails can be installed anywhere a handrail is needed, regardless of whether or not there is an adjacent wall for support. The Promenaid Sprocketlock™ system lets you customize free-standing handrails to meet all of your design needs. 
Illuminated
One of our more unique features is our handrail illumination system. Using our proprietary LED lighting that locks into the patented channel, you can easily add custom lighting to your church handrails. Illuminating the handrails increases safety and accessibility.
Easy and Quick Installation
One of the best things about Promenaid handrails is that they can be delivered in no time – even as fast as overnight – and are quick and easy to install. Brackets are locked into the patented channel and attached to the stud to create a sturdy and stylish handrail. Handrails can even be installed as a DIY job for members of the congregation.
Make The Smart Choice For Your Church
Whether you're looking for added safety on a ramp, stairway, stage, or balcony, look no further than Promenaid's stylish aluminum handrails. Contact Promenaid to discuss your needs and to help design your custom handrail system.